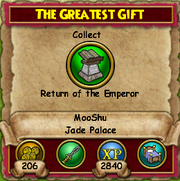 PreQuest: None
Given by: Jing-han He
Goals:
Collect History of MooShu in Crimson Fields
(in Warlord Katsumori/War Oni's room)
Collect The Early Times in Shirataki Temple
(in Ideyoshi/Plague Oni's room)
Collect The War of the Clans in Tree of Life
(in Kagemoosha/Death Oni's area in the spirit world)
Collect A New Beginning in Village of Sorrow
(in Fushiko's house/tower, which is right next to the fish teleport) (Must do Clean Sweep (MooShu) quest given by Wei Pei to get access to house)
Collect The Emperor of Peace in Hametsu Village
(in Do-Daga's room)
Collect Rise of the Mooddha in Kishibe Village
(in the Shrine of the Spirit)
Collect Return fo the Emperor in Jade Palace
(in the palace proper by the emperor)
Hand In: Jing-han He
Reward:
206 gold
2840 experience
Athame that varies by School
Leads to: None
Hints, Guides and Discussions should be placed in the Discussion tab
Ad blocker interference detected!
Wikia is a free-to-use site that makes money from advertising. We have a modified experience for viewers using ad blockers

Wikia is not accessible if you've made further modifications. Remove the custom ad blocker rule(s) and the page will load as expected.