Tea Set, placed by a singed book for size reference.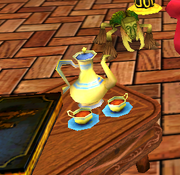 Type:
House - Decoration
Tradable: Yes
Auction: Yes


Sell Price:

Recipe
Vendor
Cost: 2430
Crafting Rank Required: Adept
Crafting Station Required:
Cooldown Time: 012:00:00
Ingredients:
Hints, Guides and Discussions should be placed in the Discussion tab.
Documentation on how to edit this page can be found at Template:HousingInfobox/doc.