This Is A
Stub
Please Help Us By Expanding It.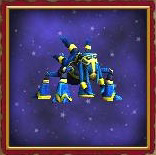 Type: Hybrid Pet
School: Storm
Pedigree: varies based on what abilities they inherit from their parents.
Cards:Gives one Storm Beetle Item Card at Adult
Egg Name: Stormsquall
Hatch Time: 00:21:00 (Days:Hours:Minutes)
Description: This pet takes the shape of a blue beetle, with interwoven yellow lines on various parts of the body.
---
Default Attribute Limits: may be variable include range if known
| | | | | |
| --- | --- | --- | --- | --- |
| Strength: 215 | Intellect: 215 | Agility: 240 | Will: 240 | Power: 200 |
---
Talents and Derby Abilities: variable and inherited from the parents
---
Parents: (do not include hatches with the hybrid itself)
---
Liked Snacks:
Loved Snacks:

Looks Like:
Hints, Guides and Discussions should be placed in the Discussion tab.

Documentation on how to edit this page can be found at Template:HybridPetInfobox/doc.
Ad blocker interference detected!
Wikia is a free-to-use site that makes money from advertising. We have a modified experience for viewers using ad blockers

Wikia is not accessible if you've made further modifications. Remove the custom ad blocker rule(s) and the page will load as expected.