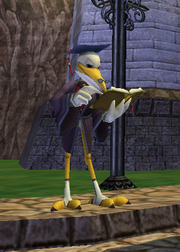 The Registrar is one of the many members of Faculty for the Ravenwood School of Magic.
Once players reach lvl 12, Mr. Lincoln will begin to allow you to reclaim the training points you've spent for a crown fee. Only all training points may be reclaimed at once, you cannot choose a number of points to reclaim.
As of 27 September 2010, the price to buy back training points is 350 crowns per point after the first three. Wizards who have spent only three training points or fewer may reclaim them for free.
Location: Golem Court
Takes place in quest: A Dreadful Situation

Hints, Guides and Discussions should be placed in the Discussion
Ad blocker interference detected!
Wikia is a free-to-use site that makes money from advertising. We have a modified experience for viewers using ad blockers

Wikia is not accessible if you've made further modifications. Remove the custom ad blocker rule(s) and the page will load as expected.