This Is A
Stub
Please Help Us By Expanding It.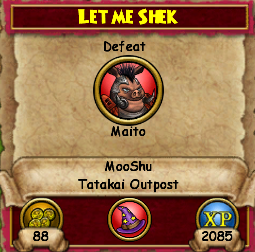 PreQuest: Key to Success
Given by: Sanisai Fukido
Goals:
Defeat Maito
Talk to Sanisai Fukido
Hand In: Sanisai Fukido
Reward:
88
2,085
Hat according to School

Balance: Enlivened Cowl
Hat of Self-Awareness
Death: Cowl of Pondering
Fire: Cap of Reflection
Life: Shroud of Deep Thought
Myth: Contemplative Mask
Storm: Meditative Helm
Leads to: A Tale of Two Brothers

Hints, Guides and Discussions should be placed in the Discussion tab.
Ad blocker interference detected!
Wikia is a free-to-use site that makes money from advertising. We have a modified experience for viewers using ad blockers

Wikia is not accessible if you've made further modifications. Remove the custom ad blocker rule(s) and the page will load as expected.