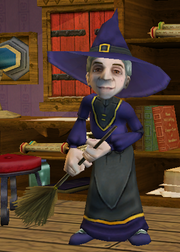 Gretta is actually found within her house just down the road from Fireglobe Theatre Spoiler on the Discussion Tab. Before Malistaire left Ravenwood, Gretta taught Alchemy at the school, but she had worries about the Death School. And when Headmaster Ambrose didn't believe her, she left.
Location:Firecat Alley
Gives Quest:
Quest Goal:
Ends Quest:

Hints, Guides and Discussions should be placed in the Discussion tab.
Ad blocker interference detected!
Wikia is a free-to-use site that makes money from advertising. We have a modified experience for viewers using ad blockers

Wikia is not accessible if you've made further modifications. Remove the custom ad blocker rule(s) and the page will load as expected.