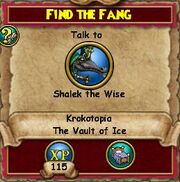 Requirement: Return to Shalek
Given by: Shalek the Wise
Goals:
Talk to Shalek the Wise in The Vault of Ice

Start The Vault of Ice instance and the Breaking the Vault Quest

Defeat Keeper of the Fang

Talk to Shalek the Wise in Entrance Hall
Hand In: Shalek the Wise
Reward:
115 experience
Leads to:

Retribution (continues storyline)
Hints, Guides and Discussions should be placed in the Discussion tab
Ad blocker interference detected!
Wikia is a free-to-use site that makes money from advertising. We have a modified experience for viewers using ad blockers

Wikia is not accessible if you've made further modifications. Remove the custom ad blocker rule(s) and the page will load as expected.