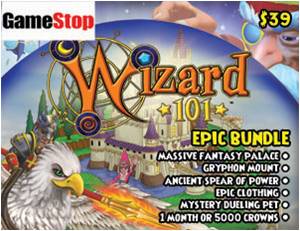 'Epic Bundle Set'
What is it?
The Epic Bundle Set is a gift card that was offered for $39.00 USD.
Items that are in the set
The set has the following:
1) The Massive Fantasy Palace- A large house which can hold a total of 500 items (250 items outside and 250 items inside). It also has secret tunnels, a hidden island, and a PvP arena.
2) The Permanent Swift Gryphon Mount- A Gryphon mount that can only be found in the set. It adds 40% to your speed.
3) The Ancient Spear of Power- Depending on the spear you chose, the spear's level ranges from level 1 to level 50.
4) The Epic Clothing- Like the Ancient Spear of Power, it has six levels that can be chosen that range from level 1 to level 50.
5) A Mystery Dueling Pet- a Fierce Hound made specially for dueling. You can dye it black and brown, black and green, black and blue, or black and red.
6) 1 month membership or 5,000 Crowns.
7) The mini-game kiosk housing item, gives random mini-game.
8) If you already have 3 houses in your inventory this set comes with an additional space elixir which gives you an extra housing space.
Ad blocker interference detected!
Wikia is a free-to-use site that makes money from advertising. We have a modified experience for viewers using ad blockers

Wikia is not accessible if you've made further modifications. Remove the custom ad blocker rule(s) and the page will load as expected.