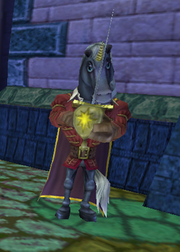 Location: Wizard City - Unicorn Way
Gives quest
Quest Goal:
Ends quest:
Profile
Likes:
Dancing (Ballroom, Salsa, Flamenco)
Florentine Style Fencing
Dislikes:
Cheaters,
Poor manners
Favorite Spell:
Power Play
Favorite Food:
Lobster Thermidor
Diego's Deluxe Raiments
Hats
Robes
Shoes
Amulets
Pets

Hints, Guides and Discussions should be placed in the Discussion tab.
Ad blocker interference detected!
Wikia is a free-to-use site that makes money from advertising. We have a modified experience for viewers using ad blockers

Wikia is not accessible if you've made further modifications. Remove the custom ad blocker rule(s) and the page will load as expected.