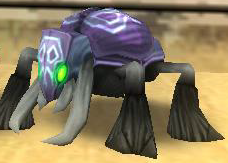 Type: First Generation Pet
School: Death
Pedigree: 42
Cards: Gives one Death Scarab Item Card at Ancient
Egg Name: Onyx Egg
Hatch Time: 00:00:05 (Days:Hours:Minutes)
Description: This pet was formerly obtainable via the promotional code Brock2009, which aired on the special Pokémon Marathon TV event. The code no longer works because it was retired 24 hours after the TV special, but this pet can make the hybrid Grim Scarab.
---
Default Attribute Limits
| | | | | |
| --- | --- | --- | --- | --- |
| Strength: 150 | Intellect: 225 | Agility: 240 | Will: 175 | Power: 150 |
---
---
Bought
From :
Amount :
Dropped By:
Reward From:
Liked Snacks:
Loved Snacks:

Looks Like:

Unique Hybrid Pets you can Hatch from this Pet:

Hints, Guides and Discussions should be placed in the Discussion tab.
Documentation on how to edit this page can be found at Template:FirstGenPetInfobox/doc.
Ad blocker interference detected!
Wikia is a free-to-use site that makes money from advertising. We have a modified experience for viewers using ad blockers

Wikia is not accessible if you've made further modifications. Remove the custom ad blocker rule(s) and the page will load as expected.