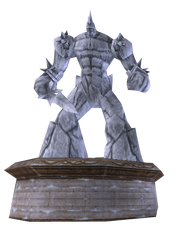 Colossus Boulevard is a little more difficult than the other Wizard City streets; instead of one creature to every player in battle, there can now be one more creature than the number of players in battle. There are still only four places for each side, so with four players there can still only be four creatures, but if you are alone you may find yourself facing up to two Gobblers or Evil Snowmen. The creatures here are also a little bigger and badder! This area requires 750 crowns or membership to access.
Additionally, this street has a smith, an history book and an house statue (the last two are rewards from the main boss, Prince Gobblestone).
Map
NPCS
Creatures
Places of Interest
Connects To
Available Reagents

Hints, Guides and Discussions should be placed in the Discussion tab.
Ad blocker interference detected!
Wikia is a free-to-use site that makes money from advertising. We have a modified experience for viewers using ad blockers

Wikia is not accessible if you've made further modifications. Remove the custom ad blocker rule(s) and the page will load as expected.